132985 Alfombrillas MERCEDES SL R129 1989-2001 1990 1991 1992 1993 1994 1995 199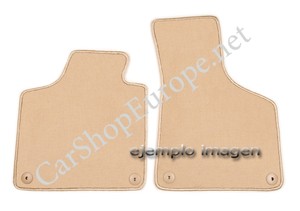 ---
Set 2 alfombras delanteras

Set 2 front carpets

Posición de las alfombras: adelanteColor: beigeRibete beige (cosido)Material: velour. Recomendado!Espesor: 7-8mm

Esterillas tamaño original MERCEDES SL (R129) (1989 - 2001)

*ejemplo imagen: quiere decir que la imagen es solo para apreciar la calidad y colores. Recibirá patrón original para su modelo. Las alfombras traen fijaciones solo si su vehículo lleva soportes en el suelo instalados de fábrica. Solo en este caso recibe alfombras con fijaciones. Si desea puede adquirir fijaciones y soportes en nuestra tienda.

*Example image: means that the image is only to appreciate the quality and colors. You will receive an original pattern for your model. Carpets bring fixings only if your vehicle has floor supports installed at the factory. Only in this case receives carpets with fixings. If you wish, you can purchase fixings and supports in our store.

                                                                                                                                 

Compatibilidad:

MERCEDES SL (R129) 1989MERCEDES SL (R129) 1990MERCEDES SL (R129) 1991MERCEDES SL (R129) 1992MERCEDES SL (R129) 1993MERCEDES SL (R129) 1994MERCEDES SL (R129) 1995MERCEDES SL (R129) 1996MERCEDES SL (R129) 1997MERCEDES SL (R129) 1998MERCEDES SL (R129) 1999MERCEDES SL (R129) 2000MERCEDES SL (R129) 2001

Si ha encontrado algún error o no se entiende, haga nos sabes.

Nota: para coche con volante a la izquierda, no válidas para coches con volante a la derecha (países como Reino Unido, Irlanda, Australia, Japón)

If you have found an error or you do not understand, let us know.

Note: for cars with steering wheel on the left, not valid for cars with steering wheel on the right (countries such as United Kingdom, Ireland, Australia, Japan)

 

Puede recoger el pedido en nuestras instalaciones.Teléfono: 986486923Recogidas de 8:00-14:00Trva. Rebullón, 836416 Vigo, Pontevedra

 

Por favor tome nota: Envío desde España península. Para envíos que van fuera de Union Europea, a Canarias, Ceuta, Melilla, Gibraltar, Andorra es posible algunos impuestos/cargos de aduana. Por favor consulte con la oficina de correos o oficina de aduana de su país sobre cargos.     ¿Busca algo más económico? Visite "Alfombras económicas"